30 Awesome Things You Can Do at Camp Minsi This Summer
Looking for things to add to your summer camp "to do" list? Here are some of our top suggestions.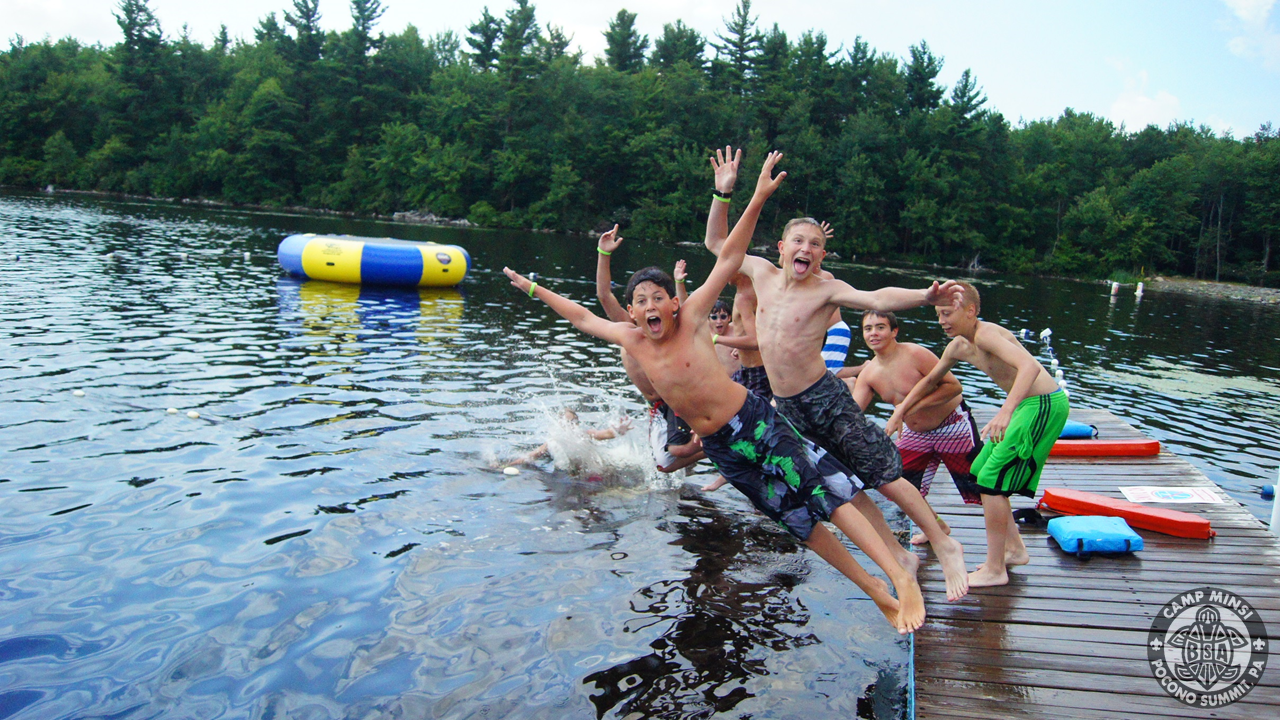 "I'm bored" aren't words you hear often around Camp Minsi. There is so much to do... fitting everything into a single week is almost impossible. There's a lot more to summer camp than just sleeping under canvas and earning merit badges. Here are 30 awesome things to add to your "to do" list this summer at Camp Minsi.
For more information on all the exciting programs offered at Camp Minsi this summer, check out our full summer camp program guide.
1. Get dirty on the Muck Hike

A Scout is clean... but he's not afraid to get dirty. Travel into the swamps with us on a muddy experience that you'll never forget.

2. Enjoy a Slushie in a Camp Minsi Super Mug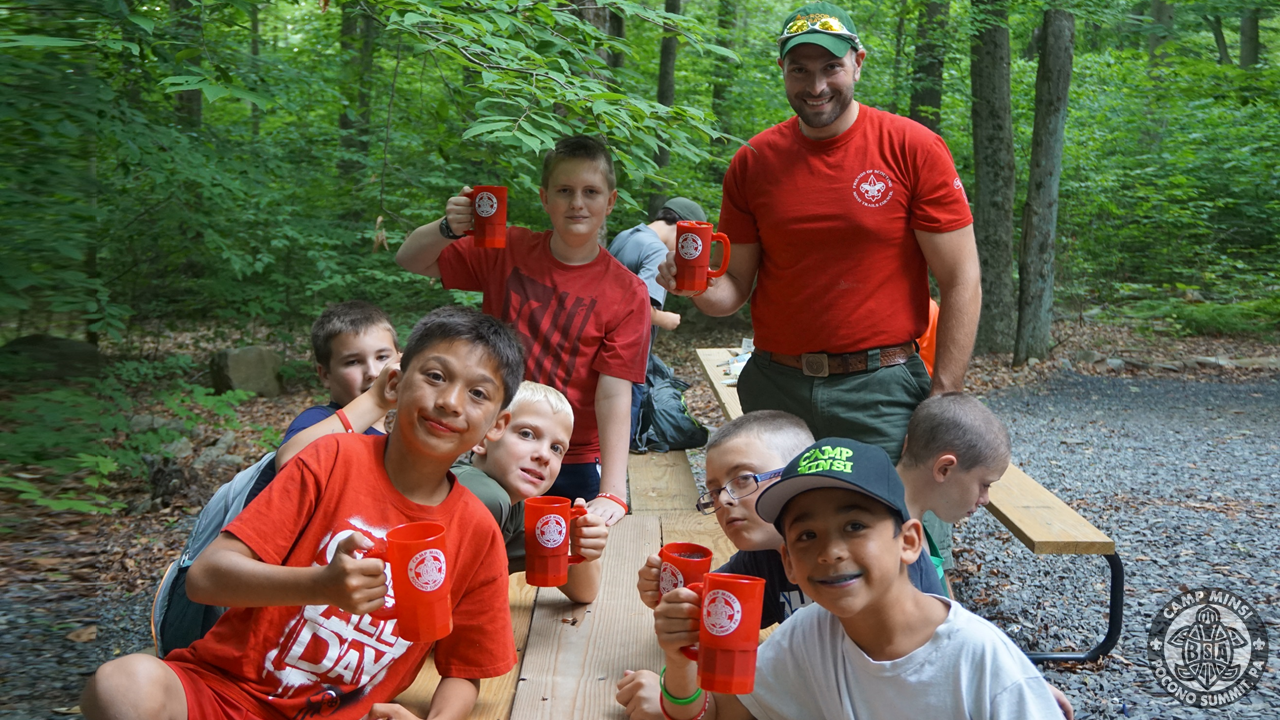 There's no better way to cool off on a hot day than by enjoying a refreshing Camp Minsi slushie in a Camp Minsi Super Mug from the Camp Minsi Trading Post. We've got dozens of delicious flavor combinations; what's your favorite?

3. Visit the Minsi Village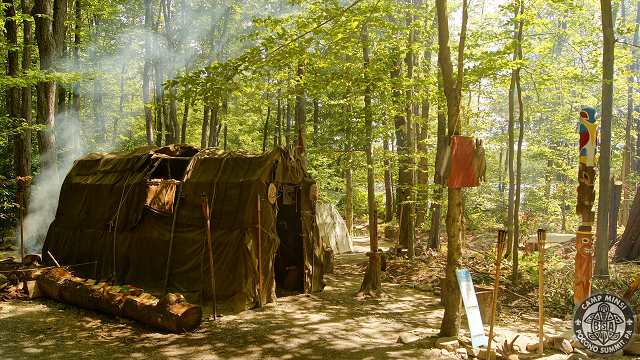 Experience living history at our one-of-a-kind Indian village. You can carve a totem pole, throw tomahawks, practice tracking, construct tools, start fire by friction, develop your survival skills, play games, and do so much more!

4. Set sail on Stillwater Lake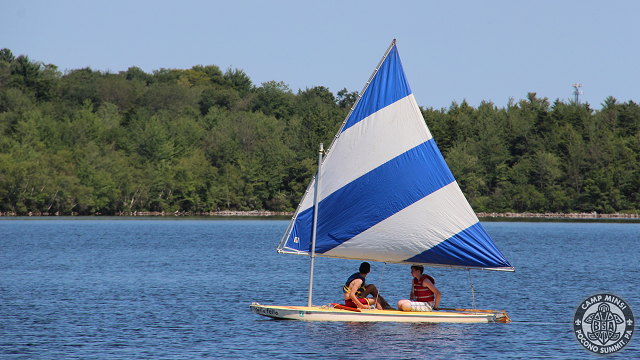 Sailing is one of the most enjoyable pastimes on the open water. The quiet and peacefulness of the water can provide a pleasant break from everyday life. Whether it's by earning the Small-boat Sailing merit badge or just enjoying some wind during open boating, we recommend taking time to set sail at Camp Minsi this summer.

5. Climb the spar-pole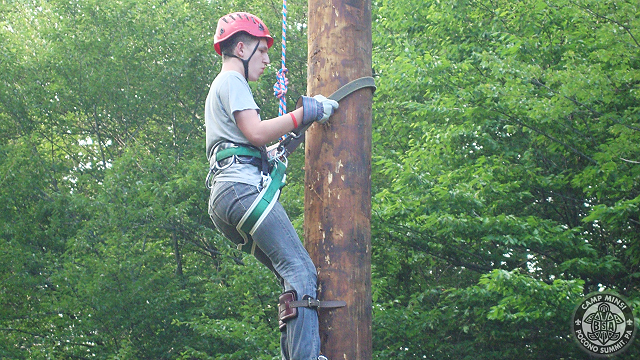 Reach great heights as you climb our 30-foot spar-pole. Scouts (14 and older) can learn belaying and climbing techniques on Tuesday evenings as they work to conquer the vertical pole.

6. Sing your most favorite song in the whole…wide…world!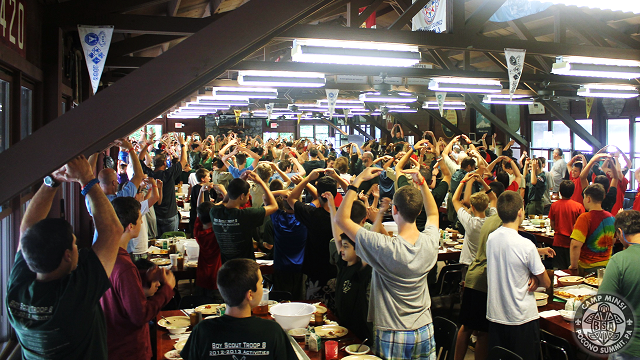 At Camp Minsi not only is singing allowed at the dinner table, but it's actually encouraged! Every meal ends with a great camp-wide song. What's you're favorite?

7. Experience an OA callout ceremony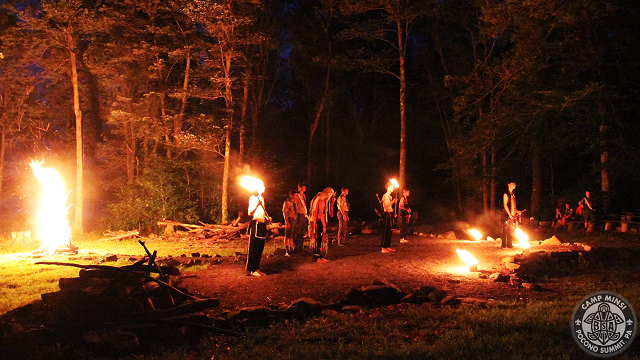 The Order of the Arrow is Scouting's national honor society. On Thursday evening you'll learn about the OA and be able to watch as your fellow Scouts are called out to join the order in an impressive ceremony.

8. Go on an Afternoon Adventure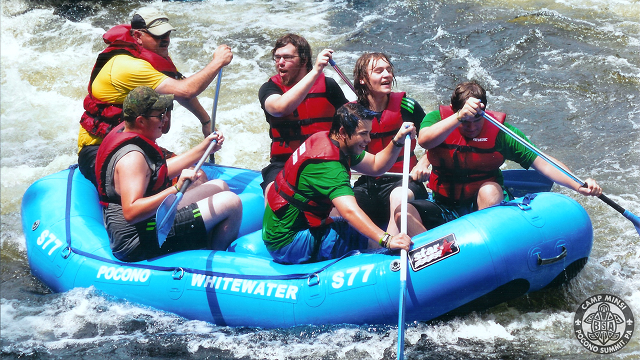 If you are a thrill-seeker looking for outdoor challenges and fun, then look no further than Camp Minsi's Afternoon Adventures. These special programs provide a variety of unique outdoor adventures for older Scouts -- including whitewater rafting, hiking, climbing, zip-lining, mountain biking, and exploring!
9. Climb an iceberg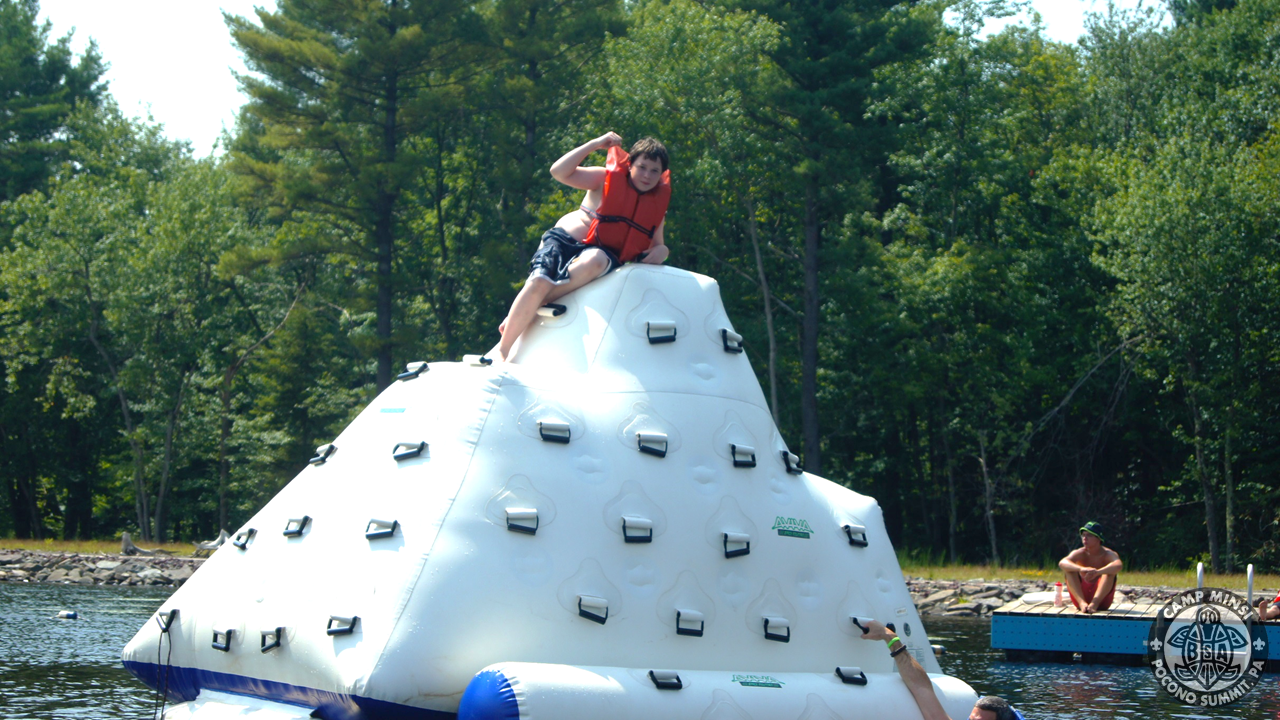 Camp Minsi's waterfront is home to the Waterfront Interactive Zone (WIZ) which includes a climbable iceberg, trampoline, blob, totter, mats, and more. You can enjoy your open swim time with some real action aquatics!

10. Play a game of Slip'n'Slide Kickball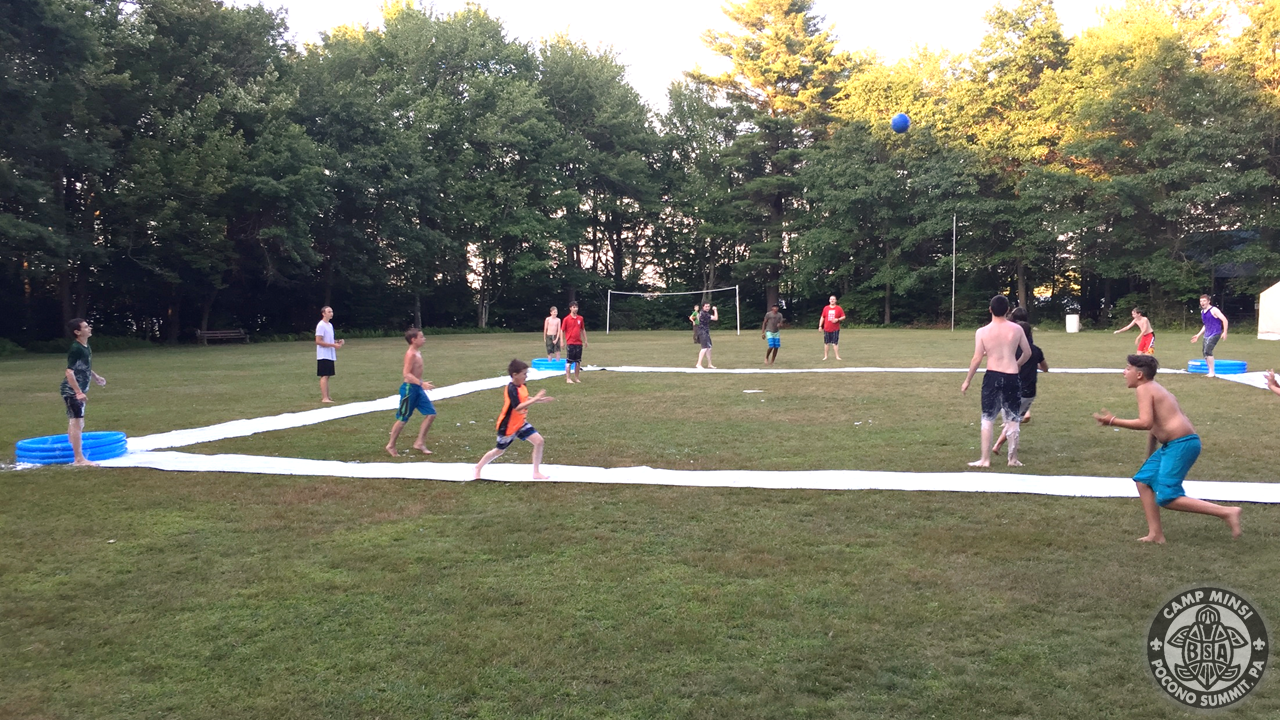 Do you like Slip'N'Slides? Do you like kickball? Do you like neither, but the idea of combining the two tickles your fancy? Well then come play a game of Camp Minsi's favorite sport -- Slip'N'Slide Kickball!

11. Paint a rock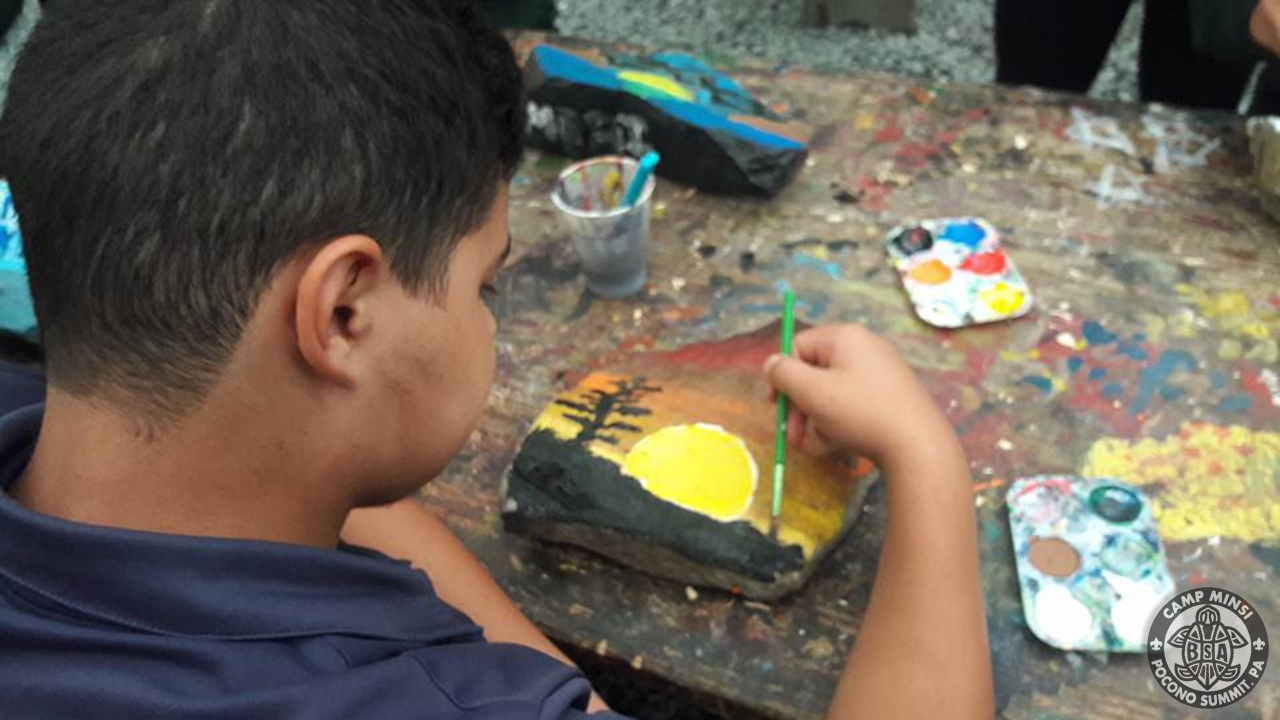 Show off your creativity and leave a leagacy behind at Camp Minsi by helping to populate Handicraft's unique rock garden.

12. Catch a fish
Stillwater Lake is home to bass, pickerel, yellow perch, catfish and sunfish. The tailwaters of the lake flow into Tunkhannock Stream which offers homes to Brook and Rainbow trout. Bring your rod and have some "reel" fun at Camp Minsi this summer!

13. Hang out with friends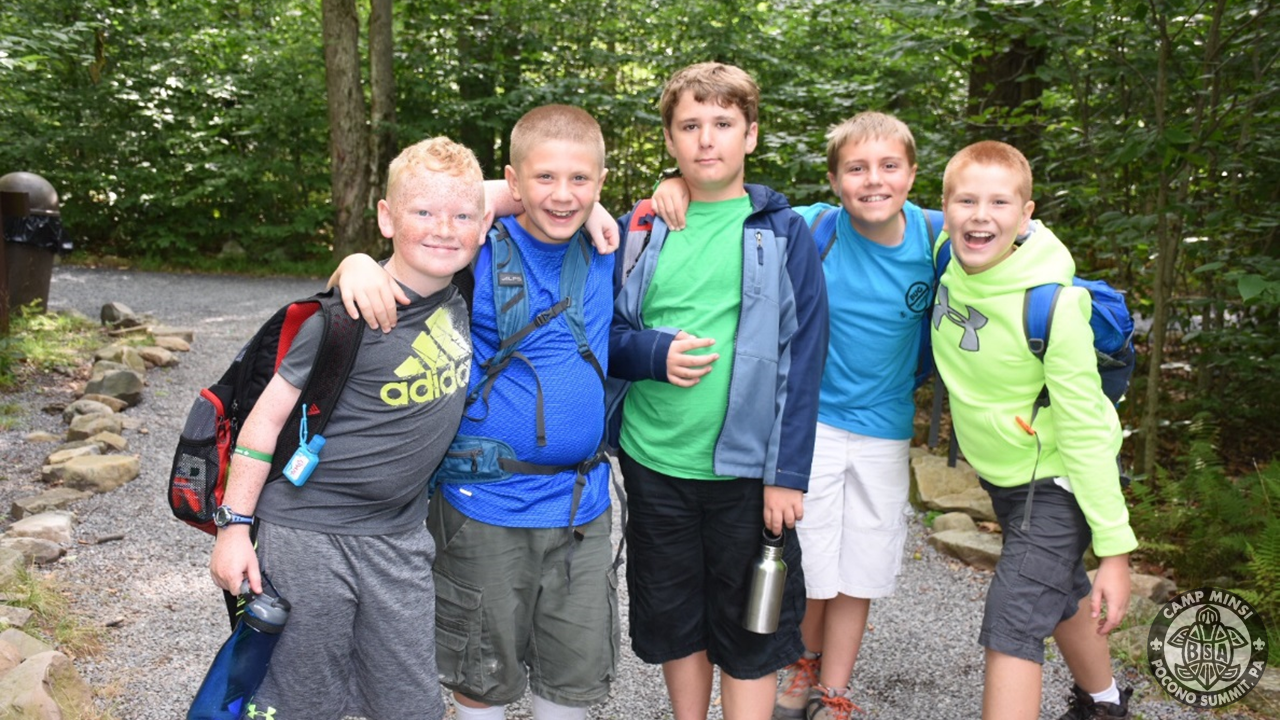 One of the greatest things about a week at Camp Minsi is being able to spend an entire week with your friends! Another great thing about camp is getting to make new friends! Basically, camplife is all about hanging out with friends.

14. Look up at the stars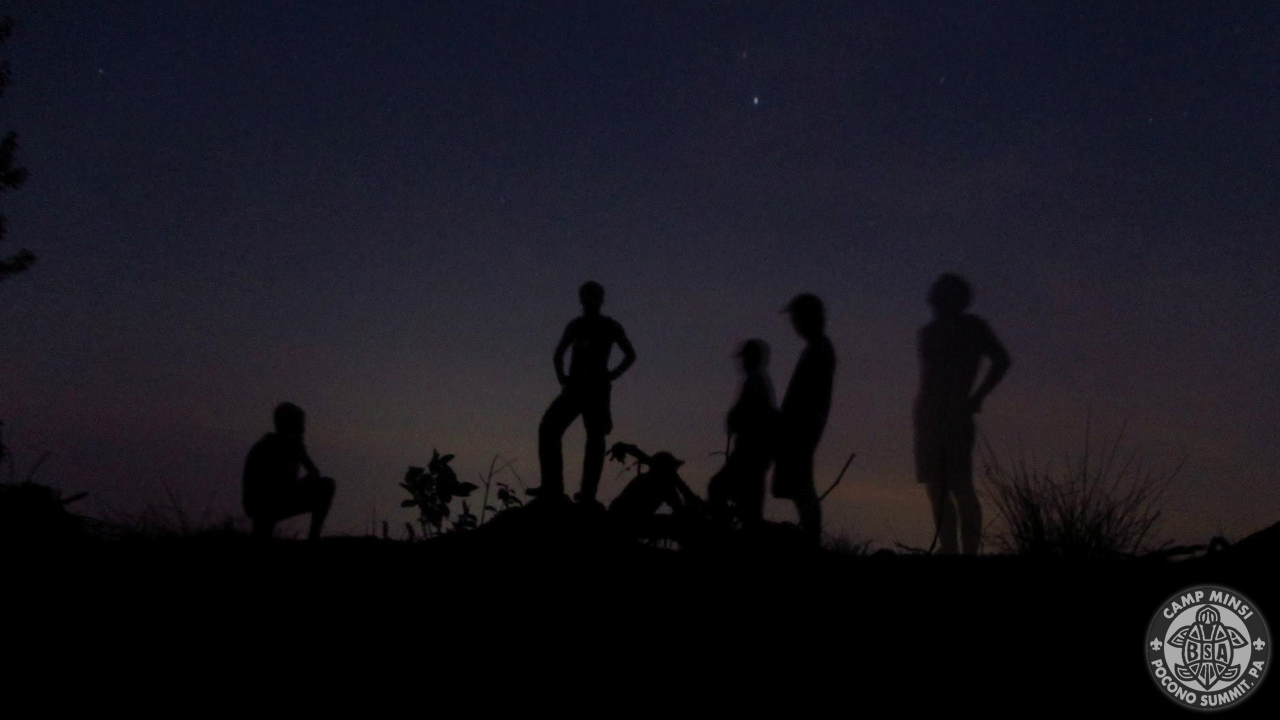 There's nothing more relaxing or awe-inspiring that taking some time to enjoy the night sky at Camp Minsi. Go stargaze on your own or attend one of our guided astronomy observations and laser-guided star tours.

15. Learn about the past at "History with a Bang!"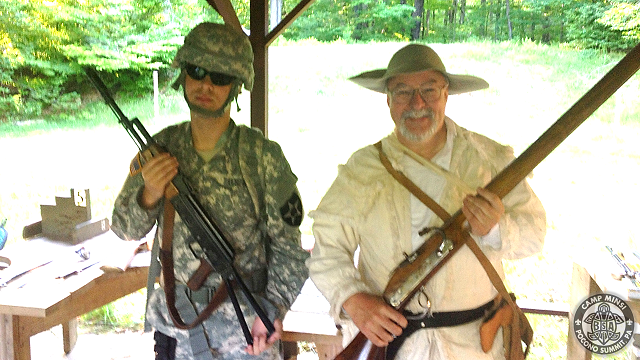 This special Shooting Sports presentation is the loudest night in camp. Watch as we shoot our way through history with a demonstration of historical firearms from the Revoluntiary War all the way up to today.

16. Jump in the lake at Frigid Froggy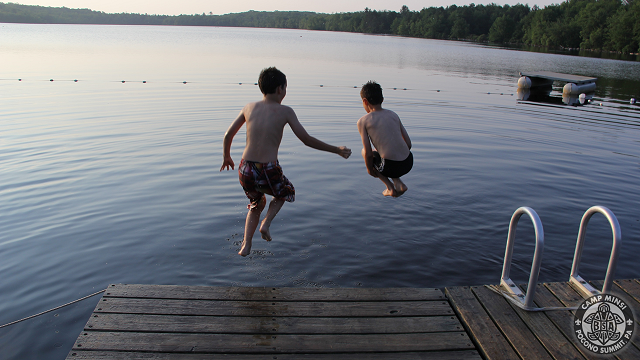 Rise and shine... and shivver. Take an early morning dip in Stillwater Lake. This early morning swim is a great way to wake up and start your day at Camp Minsi. You can even earn a special patch if you attend all five days.

17. Have a campfire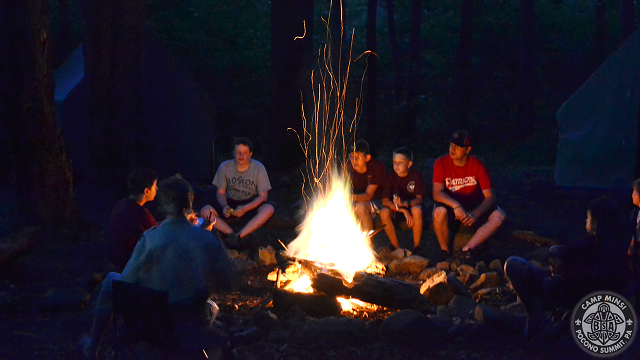 What campout isn't complete without a good campfire at the end of the day? Have yourself an awesome evening by adding in some stories, skits, songs, and snacks.

18. Go on a hike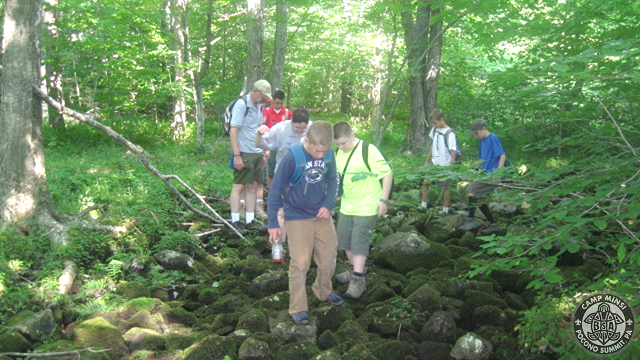 There's no shortage of great places to hike at Camp Minsi. The camp has over 1,200-acres to explore and more than 20 miles of backcountry trails. Ask the staff about recommendations on places to go (our top picks include: Hunter's Cabin, the Ice house ruins, and Duck Puddle).

19. Go canoeing with your entire troop in one canoe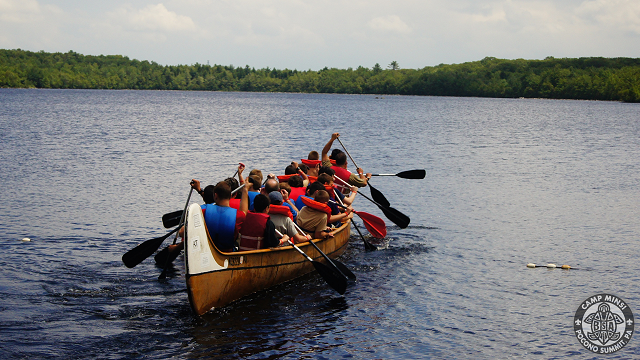 Take your whole troop out on Stillwater Lake for a paddle in our massive 30-person voyageur canoe! You'll see the power of teamwork as you make this boat speed across the water.

20. Be a blacksmith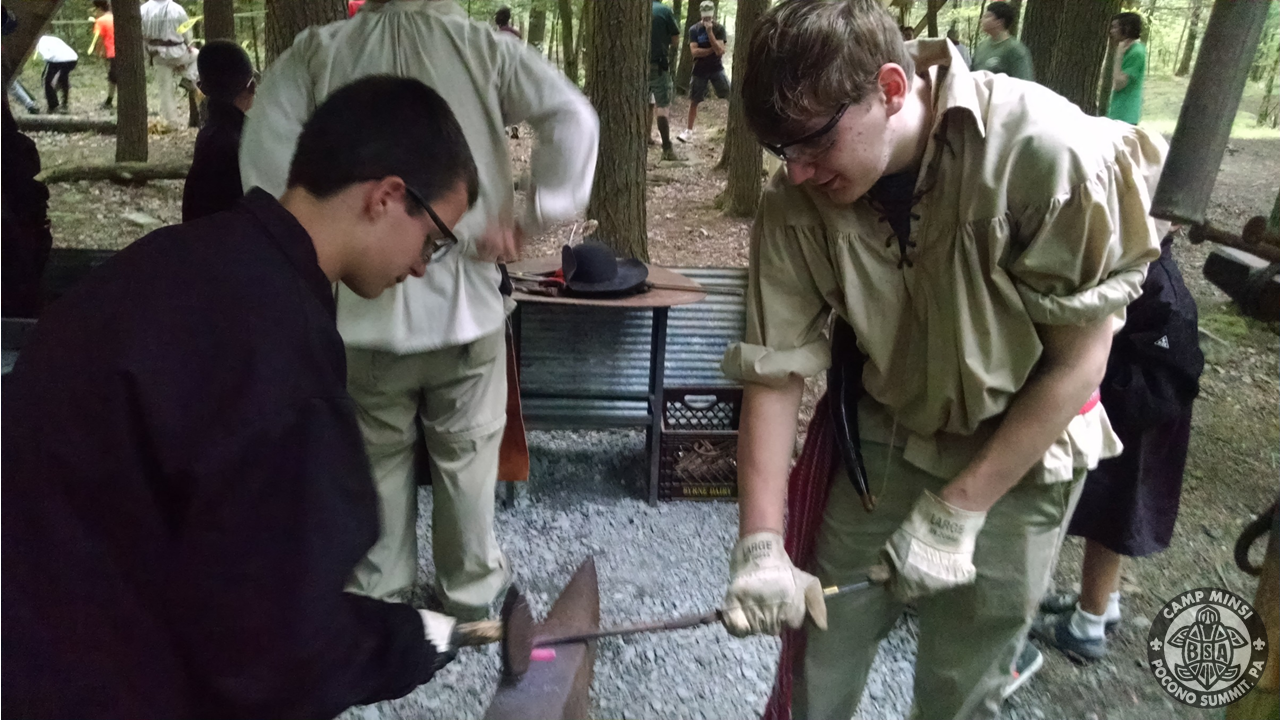 Visit the blacksmith shop and forges at our Voyageur Outpost Site to try your hand a metal working. You'll get to heat, hammer, bend, cut and shape metal to create useful items.

21. Swim a mile

Build fitness and confidence as you swim a mile across Stillwater Lake. Participate in the mile swim program and earn the coveted Mile Swim BSA Award.

22. Cook great food on an open fire

What Scout doesn't like cooking (and eating) delicious food around the campfire? Daily cooking demos and competitions allow you to be a camp chef. Everything tastes better when cooked on a campfire - whether cooked in cast iron, aluminium foil, or roasted openly on a stick.

23. Stand up and paddle a stand-up paddleboard

Propel yourself through the water on a stand-up paddleboard (SUP). Paddleboards are a fun, relaxing and popular way to cruise the calm waters of Stillwater Lake.

24. Build and launch a rocket

Prepare for launch. Scouts can build and lauch their own rocket as part of the awesome Space Exploration merit badge program at Camp Minsi. 3... 2... 1... blast-off!

25. Visit a boulder field

Whether as part of the Hickory Run Expedition or the Minsi Muck Hike, experience and explore the amazing glacial moraine of the Pocono Mountains.

26. Shoot a bow and arrow

Do your best Robin Hood impression and build your skills with a bow and arrow. Archery is a fun way to develop a steady hand, a good eye, and a disciplined mind.

27. Use a potter's wheel

Get your hands dirty as you create and work with clay. Visit our Handicraft lodge to earn the Pottery merit badge and use a potter's wheel to turn a lump of clay into a beautiful pot or bowl.

28. Go kayaking

Get out on the waters of Stillwater Lake in a personal watercraft! Kayaking is a popular activity at Camp Minsi's waterfront. It is a great workout, a soothing way to clear your mind, and an ideal way to enjoy and explore the open water.

29. Do a good turn

Scouts are known for doing good turns and helping others. There are plenty of opportunities to do good turns at camp -- cleaning your campsite, teaching a skill to another Scout, lending a hand to a friend, or participating in a service project. Look for ways that you can do a good turn each day.

30. Try something new... and have fun!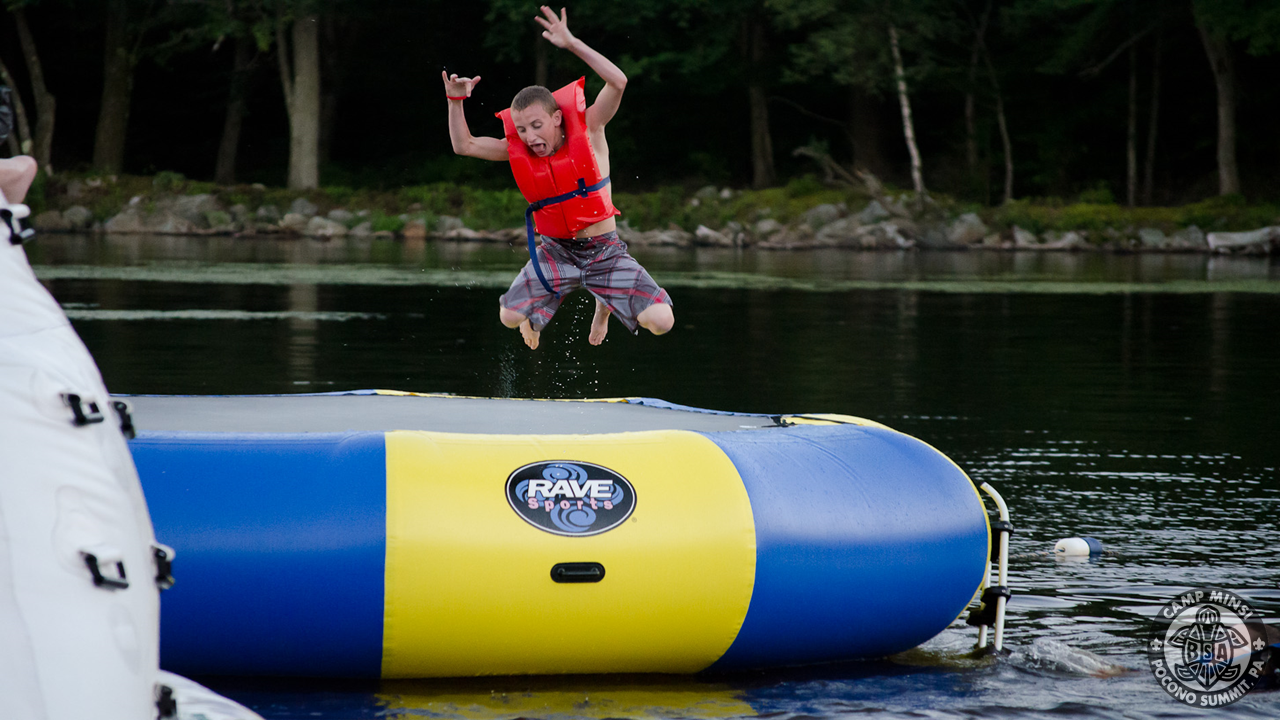 There is so much to do at Camp Minsi (this list includes just a few of the hundreds of activities available). We challenge you to find something new and exciting to do! Who knows, you might just discover a new skill or interest that'll last a lifetime!

---
Connect with Camp Minsi