These are difficult times with the current COVID-19 health precautions in effect. Many people have had to change how they work, schools have closed, and lives up-rooted. Scouting has helped families weather many storms and communities come together during hardships in the past. Scouting continues to play that vital role today, and we are hopeful for positive outcomes for your family and our communities. Trustworthy, Loyal, Helpful, Friendly, Courteous, Kind, Obedient, Cheerful, Thrifty, Brave, Clean, and Reverent aren't just elements of the Scout Law to be memorized and recited, they are words to live by, and can be even more important during times of adversity.
You already know what Scouting does for your Scout … builds character, leadership, and achievement. It's important that we continue to make Scouting available to the 9,100 youth and their families in our area. While in-person Scouting is temporarily on-hold, virtual ways of connecting are now being used. Cub Scout parents are working with their Cubs and signing off on rank advancements. Eagle Scout completion dates are being extended so Life Scouts can remain on their path towards Eagle.
The continuity of Scouting has filled a growing void in youth programs created when the stay at home and social distancing policies went into effect. With youth sports, after-school, and club activities halted, Scouting remains ready to keep youth involved and engaged. Our staff is working remotely with Scout volunteers to keep Scouting moving ahead.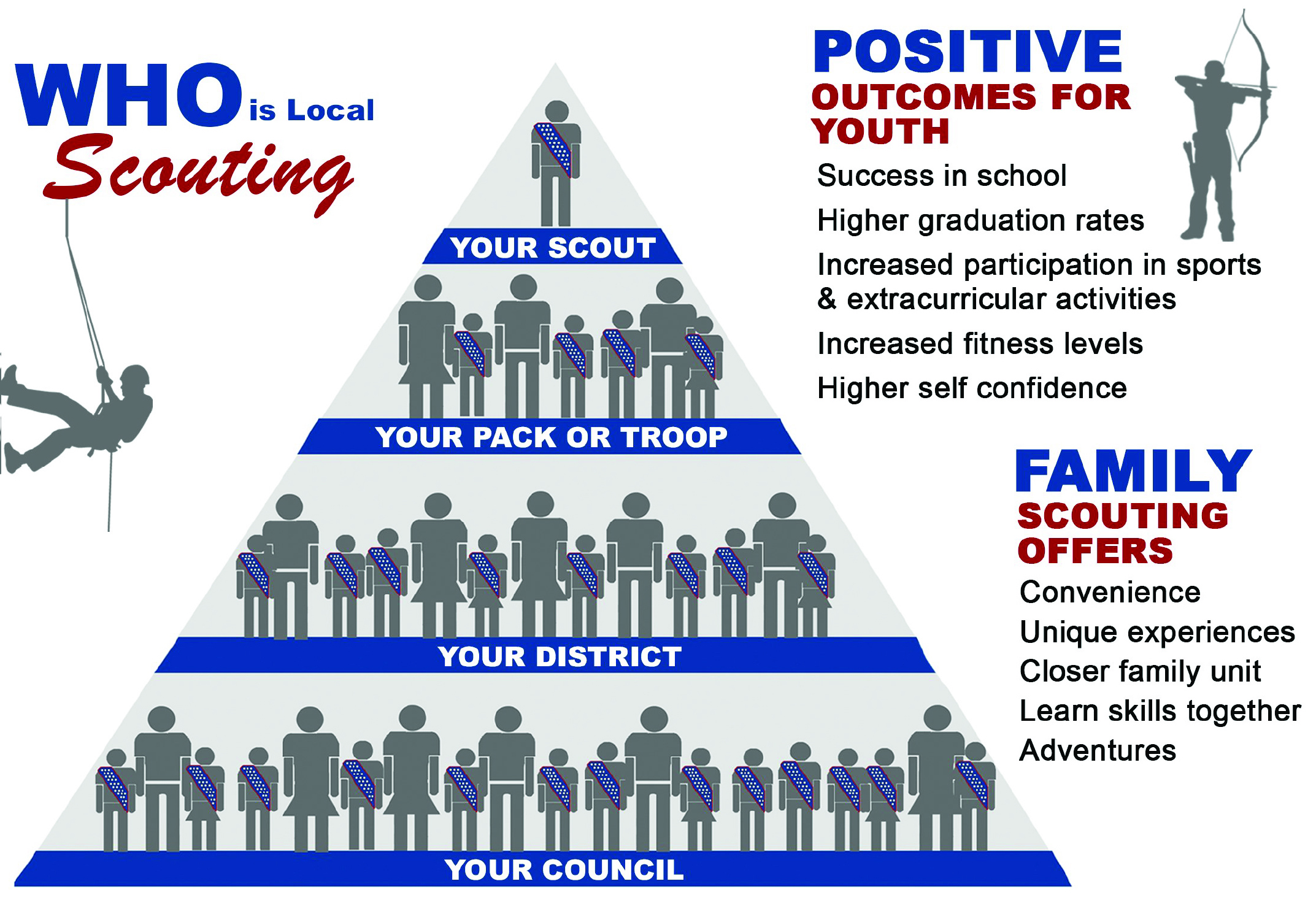 Our local Friends of Scouting campaign helps make Scouting possible by providing the resources to ensure a quality program. Scouting makes a dramatic, positive impact on our six-county area, our families, and our communities, but it doesn't happen without your support. Gifts to Friends of Scouting provide trained leaders, program materials, camping facilities, and staff support for safe and fun Scouting experiences. It is because of the generosity of our Scouting families and community supporters that the amazing benefits of Scouting are possible throughout our local communities.
Excellent camping programs available at our three council camps
Support and training for nearly 3,800 volunteer leaders who make the Scouting program possible
Materials and programs for exciting, once-in-a-lifetime experiences found only in Scouting
A safe and fun Scouting experience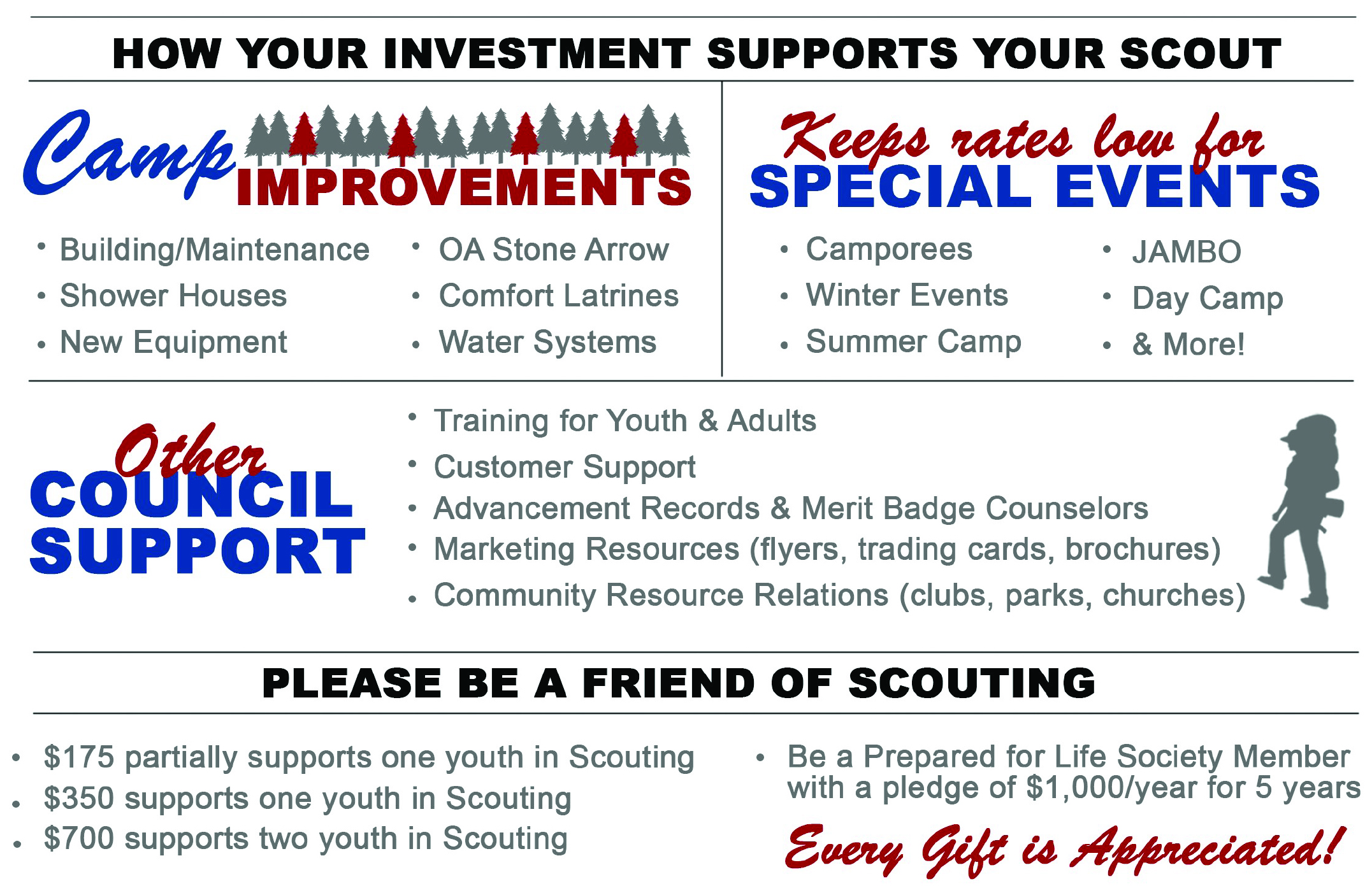 The success of Friends of Scouting is vital to the success of our local Scouting program. We hope that you are in a position to make a positive difference with a gift to the 2020 Friends of Scouting campaign Click HERE to make a gift today. If you cannot make a gift at this time because a family member is facing a health crisis or temporary job loss, please know that Scouting is here for you and your family. We are all in this together, and some say that there is no stronger family than a Scouting family. We appreciate what you can do and wish you the best during these challenging times. Stay safe and stay well.
Remember: Family Together … Time Together … Scouting Together!

Click HERE for more info on the Employer Match Program and Dollars for Doers.
Internet shopping? AmazonSmile is a website operated by Amazon with the same products, prices, and shopping features as Amazon.com. The difference is that when you shop on AmazonSmile, the AmazonSmile Foundation will donate 0.5% of the purchase price of eligible products to the charitable organization of your choice. Click Below and select Minsi Trails Council, BSA.