Page Last updated Sunday, August 11, 2020
Welcome to the home base of Sea Scout Ship 940
based on Stillwater Lake at Camp Minsi
Ship 940 is focused on water-based high adventure activities, utilizing Camp Minsi's Aquatics Base and watercraft. Sea Scouts is an older Scout program for young women and men, ages 14 up to 21. Ship 940 meets once a month via Zoom meeting and plans one on-the-water activity, chosen by the Ship's members, per month. Trips are available to registered members of Sea Scout Ship 940. See below for Ship 940's online application so you too can join in the adventures! For those already registered in a BSA Troop or Crew, there is no BSA additional fee.
CONTACT US AT: contact@ship940.org
FOLLOW US ON: Facebook group Ship 940
STAY INFORMED: Text @ship940 to 81010
---
SHIP 940 MEETINGS:
We are a regional Sea Scout Ship in Minsi Trails Council. All of our meeting will be Zoom meetings, unless otherwise indicated here.
Ship Meetings led by the Boatswain.
Third Sunday of the month, 6:15 PM leaders, 6:30 Everyone else, via Zoom.
- 2020 -
October 18
November 15
December 20
- 2021 -
January 17
February 21
March 21
April 18
May 16
June 20
Meeting ID: 273 120 5160
Passcode: 940
https://us02web.zoom.us/j/2731205160?pwd=M2JpV29aRTdoY2tMMVhOT0FSMjQ4Zz09
6:15

6:30

Quarterdeck Meeting

Adult & Youth Leadership
6:30

6:35

Meeting Opening

Skipper & Boatswain
6:35

6:40

Announcements

Adult Committee
6:40

6:50

Training for Advancement
6:50

7:10

Monthly Activity & Planning

Boatswain
7:10

7:25

Old & New Business

All Members
7:25

7:30

Closing Remarks

Skipper & Boatswain
Ship Committee Meetings for adult leaders and parents.
The following Wednesday, 7:00 PM via Zoom.
- 2020 -
October 21
November 18
December 23
- 2021 -
January 20
February 24
March 24
April 21
May 19
June 23
---
UPCOMING SHIP 940 OUTINGS:
NOVEMBER, 7th, Saturday, 1 pm - 7 pm, Fishing on Stillwater Lake and Tunkhannock Creek
Fishing and Ship service project hours for the Apprentice Rank will be the focus. We will follow-up with a pizza movie on the beach at Minsi's Aquatics Base. Cost is $5 per person.
NOVEMBER, 7th, Saturday, 1 pm - 7 pm, OPEN HOUSE
Come join us to learn about Sea Scouts and Ship 940. See above for details
DECEMBER, TBD
Ice Skating.
FEBRUARY 13-14th, 2021, Saturday, Ice Fishing on Stillwater Lake at Camp Minsi's Icefest and Overnight Winter Tabin Camping.
This will be an all-day and possibly overnight (COVID-19 permitting) trip, utilizing Camp Minsi's winter tents equipped with bunk beds and small wood stoves. Details to follow shortly. Stop back.
PREVIOUS OUTINGS:
2020 October - River Kayaking through the Delaware Water Gap

2020 September - Whitewater Rafting in the Lehigh River Gorge

2020 August - Sailing, kayaking, paddle boarding on Stillwater Lake
---
SHIP 940 YOUTH OFFICERS:
Boatswain - (pronounced "B-Oh-son", like an SPL) - Calais L. of Bangor
Boatswain's Mate - (like an ASPL) - Josh F. of Bethlehem
Yeoman - (like a Scribe) - Hannah T. of Hellertown
Purser - (like a Treasurer) - Devon W. of East Stroudsburg
SHIP 940 ADULT LEADERS:
US Coast Guard Auxiliary Flotilla 15-02 Representative - (sponsor) - Bob Conger of Sciota
Council Commodore - Arnold Traupman of Bethlehem
Committee Chair - Walt Witucki of Easton
Skipper - (like a Scoutmaster) - Frank Catena of Phillipsburg
Mate - (like an Assistant Scoutmaster) - Josh McDaniel of Bethlehem
Mate - (like an Assistant Scoutmaster) - Bill Broderick of Effort
---
WANT TO SET SAIL WITH SEA SCOUT SHIP 940? APPLICATION STEPS...
Applications for youth and adults for Sea Scout Ship 940 are always being accepted.
- Youth (14 up to 18) - Complete the YOUTH application form found here.
- Older Youth (18 up to 20) and Adults (21 and older) - Complete the ADULT application form** found here.
** NOTE: The older youth and adult applicants must agree to a background check and sign the consent form on the very last page of the application PDF, in order for the application to be accepted.
Scan or snapshot application and return completed and signed forms to:
Email: contact@ship940.org
---
---
What is Sea Scouts?
Sea Scouts, BSA is a program of the Boy Scouts of America for young men and women ages 14 to 20. A Sea Scout Ship (like a "troop" or "crew") is like a Venture Crew that is heavily focused on water-based action. This can be any type of watercraft on any type of body of water. It does not have to be a tall ship on a bay or the ocean. Most Sea Scout Ships are based around a sailboat on a local lake. The largest growth of ships is in the paddle sport craft segment.
What is Ship 940?
Sea Scout Ship 940 is the home of Minsi Trails Council's Sea Scout Program. It is open to young men and women, ages 14 through 20. If you are currently a member of a Scouts BSA Troop or Venturing BSA Crew, you can still be part of Sea Scouts BSA. Also, you can still work towards the Eagle Rank or the Summit Award. As a Sea Scout, you can also participate in the Order of the Arrow. If you are new to the BSA, you can just join the Sea Scout program.
While Ship 940 will be based on Stillwater Lake at Camp Minsi, Pocono Summit, in the heart of the Poconos, the monthly gatherings will be all over - where ever there is adventure. The Ship will pursue monthly activities on area lakes, rivers, bays and ocean. Since the Ship's sponsor is the US Coast Guard Auxiliary Flotilla 15-02, Monroe County, we will have access to all the Auxiliary's youth-appropriate programs and also to nearby Coast Guard facilities, including the New York Harbor area!
Who are the adult leaders for Ship 940?
Sea Scout Ship 940's adult leadership team is comprised of:
Bob Conger, Chartered Organization Representative from US Coast Guard Auxiliary Flotilla 1502
Arnold Traupman, Minsi Trails Council Sea Scout Commodore
Walt Witucki, Ship 940 Committee Chairperson
Frank Catena, Ship 940 Skipper
Greg Borowski, Pocono District Executive, and staff advisor
You can reach us with an email to contact@ship940.org
Want to take the big leap and be part of Sea Scouts?
Have an interest in any and all things water? On, in, around or under water? Want to learn more about Sea Scouts and Ship 940? Or to sign-up? Then, please send your contact information to contact@ship940.org and add "Interested !" in the subject line.
As an adult, how can I help Sea Scout Ship 940?
You can and the Ship needs your assistance! As with any BSA unit, we will need a robust adult committee assisting and coaching the youth in planning and executing their program. Assistance with specific skills, on and off the water, as well as administrative support, committee chair, treasurer,etc. will be needed.
As with all the BSA programs open to males and females, Ship 940 will need at least one, over 21, female leader in attendance at all activities and gatherings where girls are participating.
Is Ship 940 be part of Crew 940?
No. Ship 940 and Crew 940 are different units, with unique programming and different leadership. Crew 940 is part of the Venturing program, based at Camp Minsi, and focuses on supporting Camp Minsi, summer camp, and the three seasonal weekend programs. Ship 940, based on Stillwater Lake, is a Sea Scout program, focusing on water-based activities and boating safety. Given the proximity to state route PA-940, they do both share the same unit number.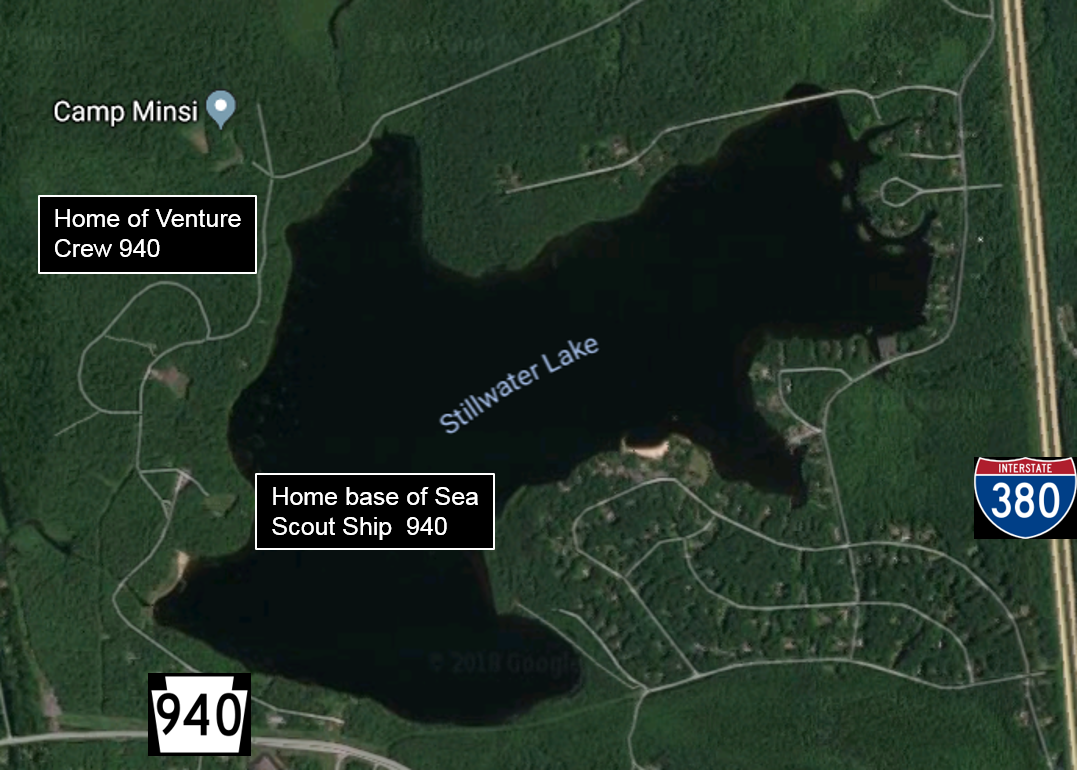 How is a Sea Scout ship structured?
Sea Scout ships, like any BSA unit, have a chartered organization structure, and a core of adult leaders, led by a Skipper (Scoutmaster) and 1 or 2 Mates (assistant Scoutmasters), along with a Ship Committee (chairman, treasurer, etc.) Youth leadership also uses nautical terms for the leadership position names. The youth leader is called the Boatswain, pronounced "bow-sun" (like the Senior Patrol Leader). The lead Sea Scout volunteer at the Council level is called the Commodore. The Sea Scout position patches for the ship officers (youth) and the ship leaders (adults) appear below.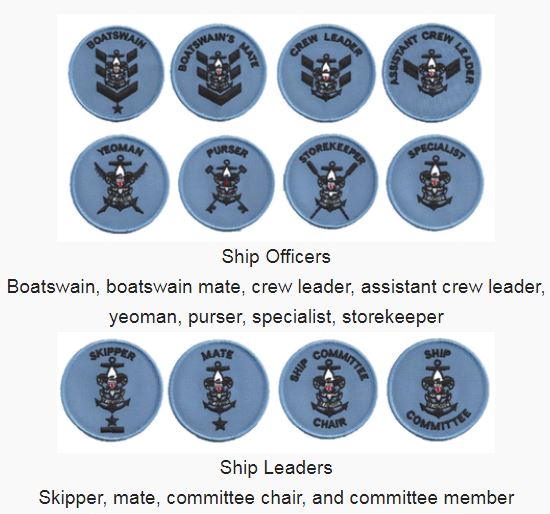 What are the advancement ranks in Sea Scouts?
Advancement is an important part of the Sea Scout experience. These experiences help Sea Scouts to set realistic goals to achieve rank, accomplish projects, and gain knowledge and understanding of the world around them. There are many opportunities for advancement in Sea Scouts. Included are the trails to Eagle and Quartermaster. Each of these trails is a highlight experience, but each requires the Sea Scout to set his or her own goals and follow through to achievement. The requirements for advancement were designed by Sea Scout youth to establish standards of performance for all Sea Scouts.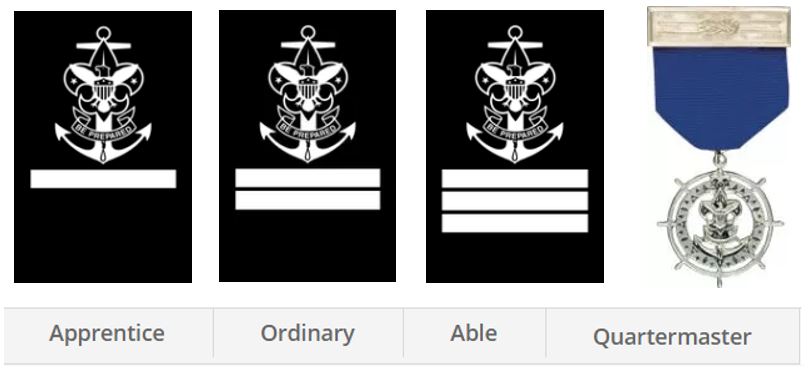 What is Stillwater Lake?
Stillwater Lake is a freshwater reservoir that covers approximately 315-acres (1.27 km2) in Pocono Summit, Pennsylvania (just off PA-940, near the Route 380 interchange). The lake is one of the greatest attractions at Camp Minsi (a regional Scout camp owned and operated by the Minsi Trails Council) and provides a variety of aquatic activities to Scouts – including swimming, sailing, canoeing, rowing, kayaking, boardsailing, and paddleboarding. Camp Minsi has a fleet of more than 115 watercraft including 21 Sunfish sailboats, a large Hobie Cat catamaran, a massive 30-person Voyageur canoe, and various other small watercraft ranging from canoes (35) and rowboats (12) to kayaks (31) to sailboards (9) and paddleboards (5).
Where can I find out more about Sea Scouts in general?
The official web home of the Sea Scouts, BSA program can be found at www.seascout.org.
How can I learn more about Sea Scout Ship 940 in the Minsi Trails Council?
If you would like to learn more please email your contact information to contact@ship940.org.