Summer Programming
As our communities are practicing social distancing we encourage you to use this time at home to keep your scout's skills sharp. Continue to visit this page for ideas on how to keep your Scouts engaged and learning!
Below are various "virtual" meetings for youth new to Cub Scouts age K-5th grade, current Cub Scouts and Cub Scout Leaders. All appear on the Council Calendar as well.
All are welcome to participate, pre-registration required and classes maybe limited. To register, click on the date.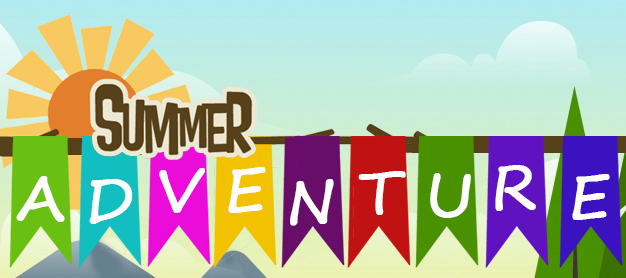 Upcoming Online Programs for youth K thru 5th grade
One Time Sessions
As Scouts begin to work again with their Dens, the program staff will be adding additional one time sessions starting after Akelaland Cubestravaganza on or near July 6th. These programs will be offered throughout July and August.
| | |
| --- | --- |
| | Lions & Tigers Building & Exploring – "Build it Up, Knock it Down & My Tiger Jungle" Lion Elective: Build... |
| | Bear Elective Adventure: Bear Picnic Basket Complete at least three of the following. Create your own Bear cookbook using at least five recipes... |
| | Learn how to build a Campfire Open to all, Lion and Tiger parents, be sure to be present with your Scouts. Learn from an Eagle... |
| | Webelos Adventure: Cast Iron Chef Complete Requirements 1 and 2 below. Requirement 3 is optional. Plan a menu for a balanced meal for your den or... |
| | Wolf Adventure: Paws on the Path Complete Requirements 1-5. Requirements 6 and 7 are optional. Show you are prepared to hike safely in any... |
| | Bear Den & Webelo Den Learn about Fishing and How to: Some fun and exciting review. Join us and learn from an... |
| | Tiger Adventure: Tiger Bites Complete requirements 1 and 2 plus at least two others. With your parent, guardian, or other caring adult, or with... |
| | Lions Fun on the Run Fun on the Run Learn and demonstrate three exercises you can do each day. Have Lions make a nutritious snack for the... |
| | Wolf Elective Adventure: Collections and Hobbies Complete the following Requirements. Begin a collection of 10 items that all have something in... |
| | Bear Elective Adventure: Roaring Laughter Complete at least four of the following. Think about what makes you laugh. Write down three things that... |
| | Mountain Lion Gather the outdoor items you need to have with you when you go on an outdoor adventure, and understand how they are used. Also... |
| | Wolf Elective Adventure: Cubs Who Care Complete at least four of the following Requirements. With other members of your den, try using a... |
| | Webelos Adventure: Webelos Walkabout Complete Requirements 1-4 and at least one other. Plan a hike or outdoor activity. Assemble a first aid kit... |
| | Family Activity - Saturday July, 18, 2020 Take a Bike Ride with your Family. Set a goal of how far you want to travel Achieve the Goal and... |
| | Bear Elective Adventure: Critter Care Complete all of the following. Do one of the following: If you have a pet, make a list of tasks that... |
| | Family Activity - Saturday August 15, 2020 Take a Bike Ride with your Family. Set a goal of how far you want to travel Achieve the Goal... |
Week Long Session
Upcoming Online Programs for youth 6th grade - 20 years of age
One Time Sessions
Week Long Session
| | |
| --- | --- |
| | Minsi Trails Council is excited to announce a Scouts BSA Virtual Summer Camp Experience of Merit Badges and Program. Pre-registration will... |
Upcoming Online Programs for All Scouting Leaders or Youth Leadership
Be sure to visit and LIKE the Minsi Trails Council Facebook page by Clicking HERE for lots of free online programming and fun! Visit our friends at Tail on the Trail for current Trail status for some healthy outdoor activity!
For the most up to date information be sure to visit minsitrails.org/update
---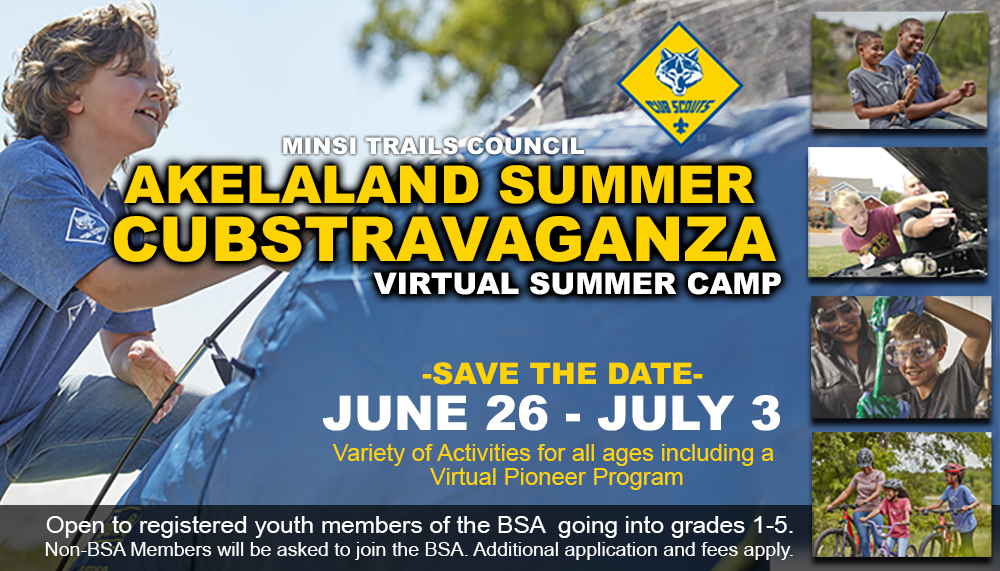 Week 1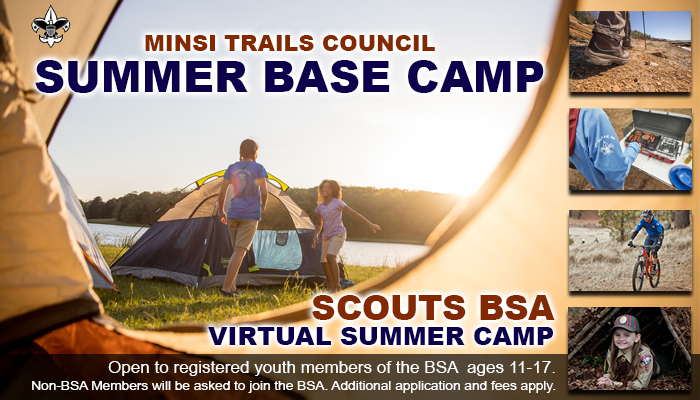 Week 2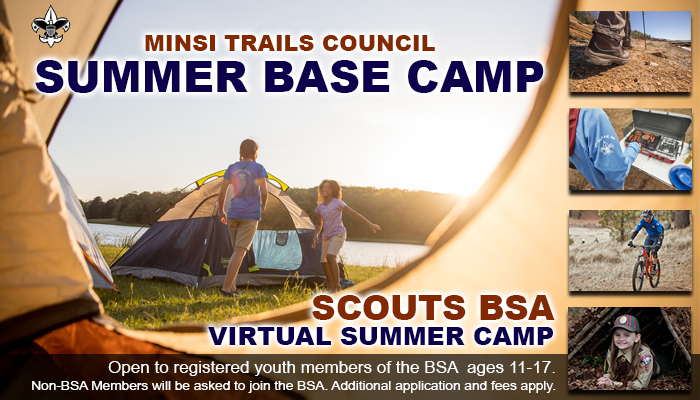 ---
Virtual Campfire Round 2!

---
It's time for Cub Scout Bingo! All activities can be completed right from the comfort of your own home! Take pictures as you complete each activity and share on the Facebook.com/MinsiTrailsBSA be sure to hashtag it #MTCScoutOn. Submit your completed BINGO card and pictures to Christian.Averill@scouting.org. BINGOs get a special facebook shout out. Complete a whole BINGO Coverall Card and win a special prize. Prizes are randomly awarded and include $10 Scout Shop Gift Card, MTC Council Blanket, Lego or Compass while supplies last. Click HERE for printable PDF.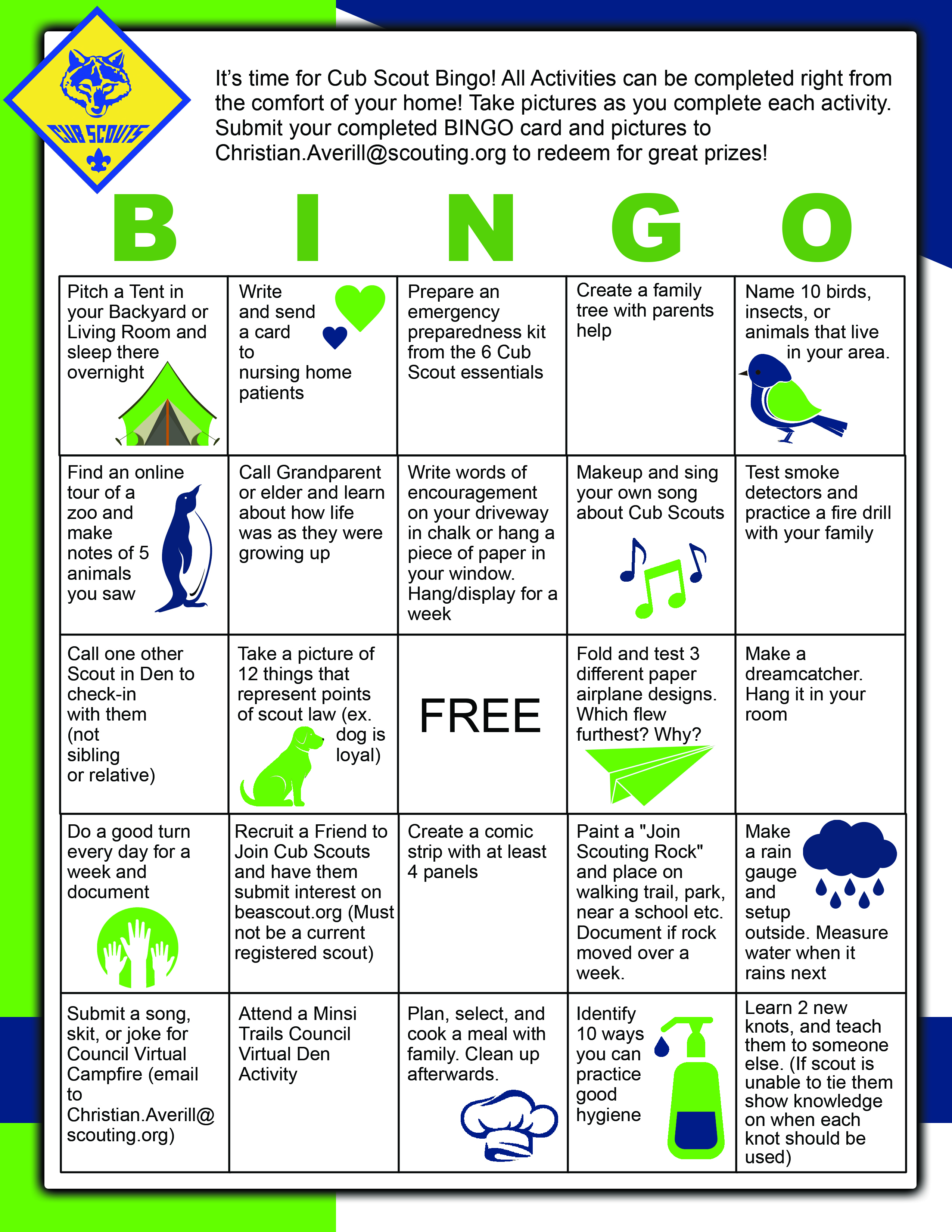 ---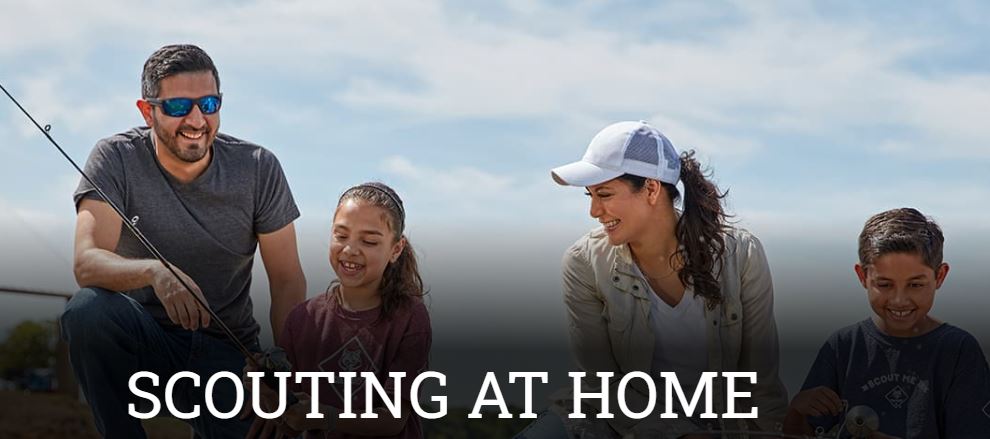 The BSA has created a website where you can find the latest organizational response and recommendations, along with an FAQ for program advancement and more. The site will be updated frequently with an ever-growing list of resources that can and should be shared with volunteers, parents, and youth looking to continue their Scouting adventures virtually. Click HERE.
---
Be Sure to check out each Camp page for even more fun activities!
---

Learning Resources from PBS39
---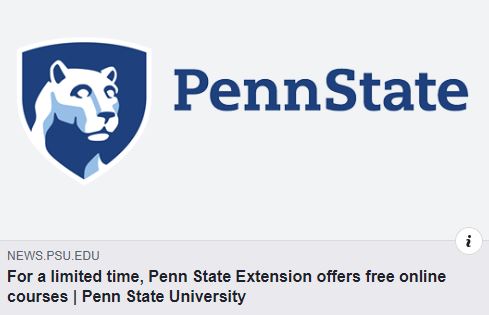 Enjoy a variety of online courses for Free until April 30th! Cooking, Farming, Gardening & More!
Here are a few courses with thought you might enjoy:
Understanding Forests: Education for the General Public
Cooking for Crowds: A volunteers guide to safe food handling
Nutrition 101: Healthy Eating guidelines and meal planning
---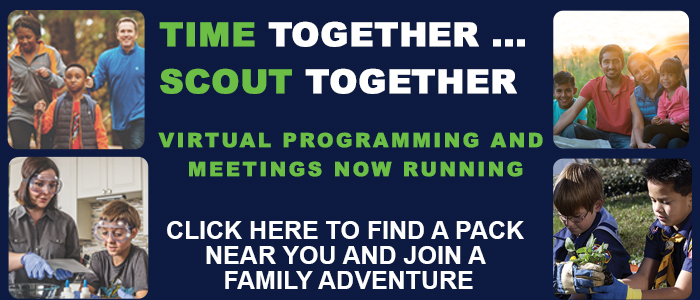 Now is the perfect time to Sign up for Scouts!
With youth sports, after-school, and club activities halted, Scouting remains ready to keep youth involved and engaged with virtual programming. Our staff is working remotely with Scout volunteers to keep Scouting moving ahead.
Visit www.Beascout.org to find a pack or troop near you!
---

We preserve the historic pathway that carried coal and iron from Wilkes-Barre to Philadelphia. Today, the D&L Trail connects people to our industrial heritage, health & wellness, economic development and nature & the environment.
Please Click HERE to visit the D&L Trails Website for history, maps, and current operational status.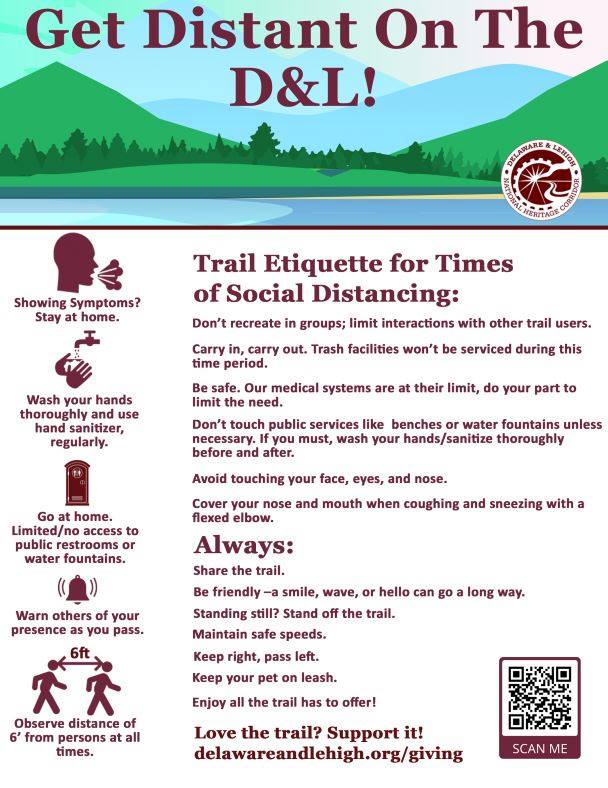 ---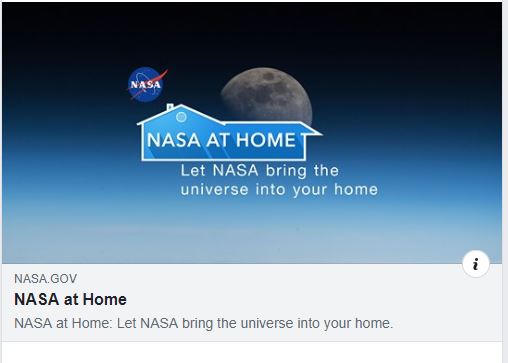 Let NASA bring the Universe into your home! E-Books, Kids activities, Podcasts, Virtual Tours & more!
---

Our friends over at Buckeye Council are offering a six week online program called #HomeScouting with over 1,000 scouts and leaders signed up so far! It is open to scouts and families anywhere and they have 33 states represented so far. Feel free to share with your units - launches tomorrow (3/23).
Each week over the next six weeks they will publish at-home activities that they can complete including advancement, service, ad camping opportunities.
Sign up at www.buckeyecouncil.org/HomeScouting
---

Our friends at the Hawkeye Area Council have developed a great 30 day challenge to help keep all Scouts active and engaged! Please click below for customized calendars.
---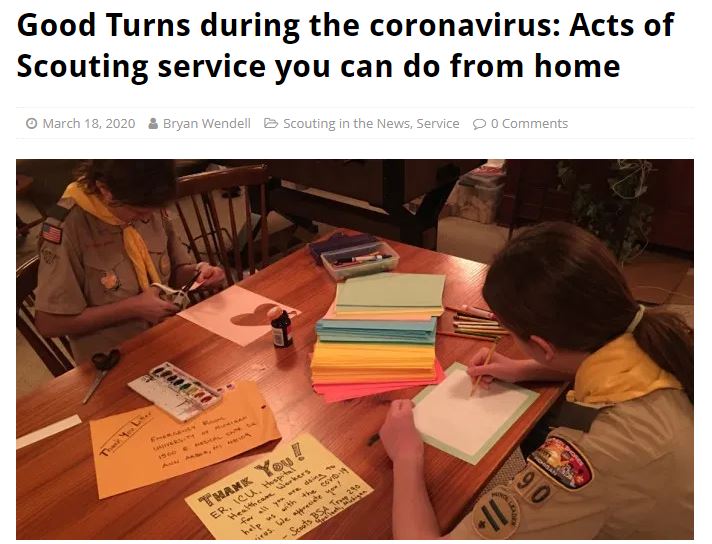 Click HERE for Brian On Scouting's article about Good Turns to do at home!
---
The Spirit of Adventure Council has some great ideas on at home programming and Merit Badges you can take online. Click HERE for full information.
---
---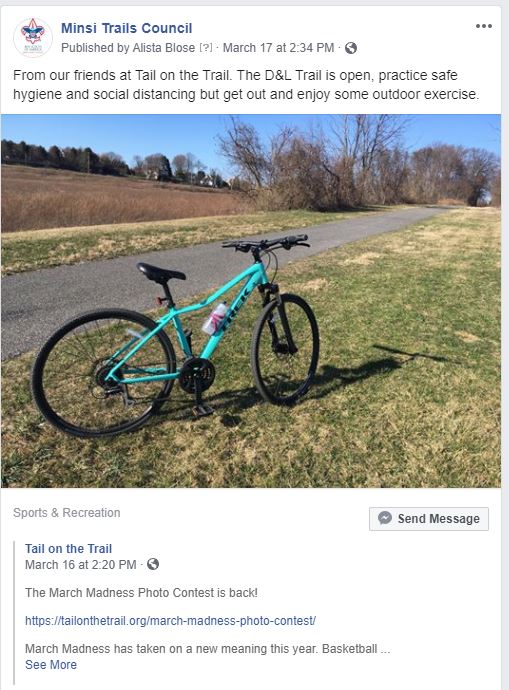 ---
You could win $100 Gift Card!
Tag and follow @boyscoutsofamerica & use hashtag #scoutingathome Official Rules: https://bit.ly/39hLBaa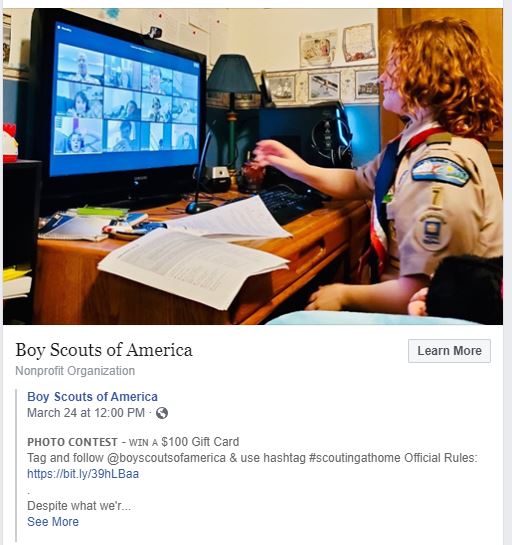 ---
Stay active on the rainy days indoors!