Minsi Trails Council 2020 Popcorn Sale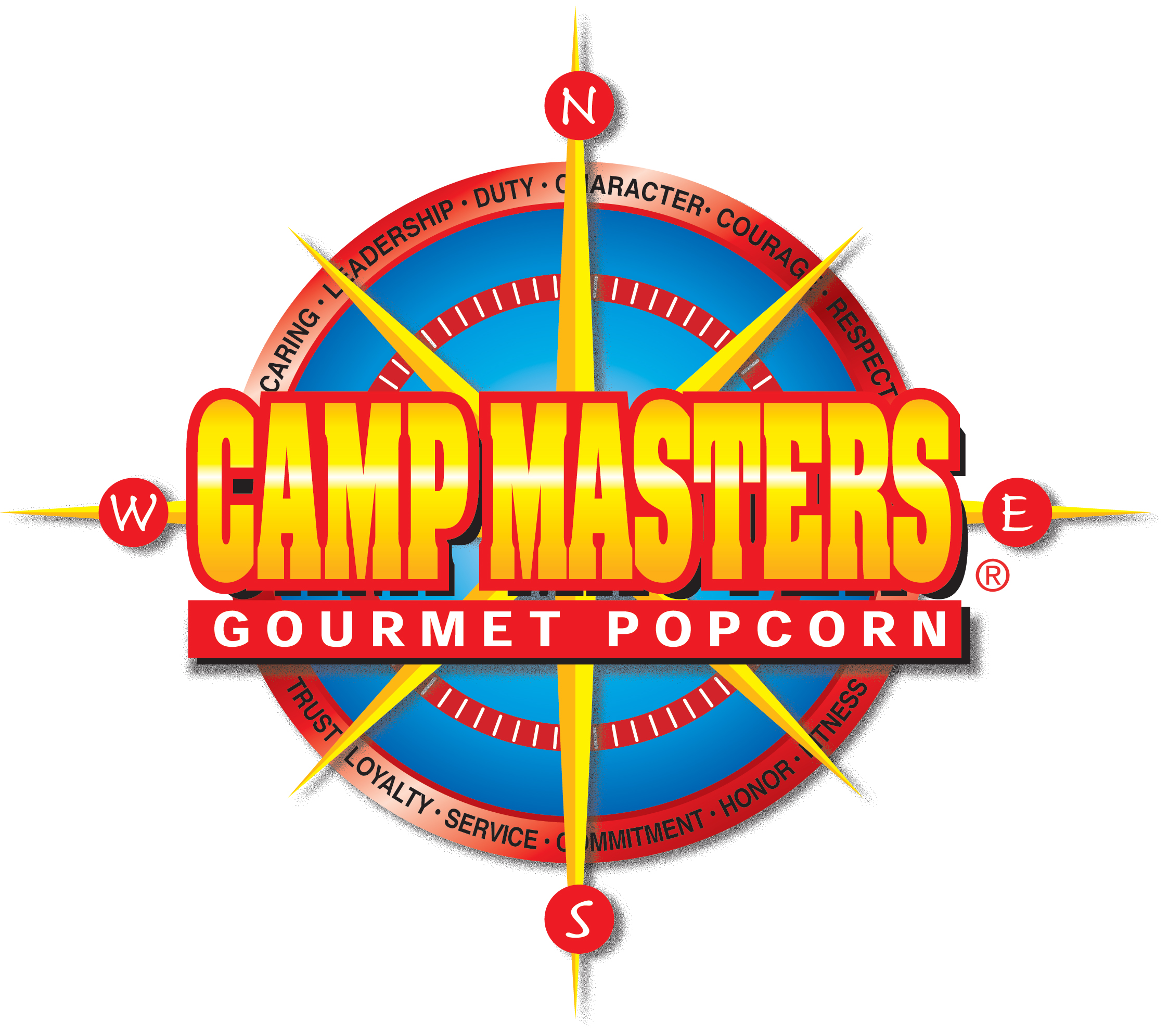 Minsi Trails Council is excited to announce a new partnership with Campmasters Gourmet Popcorn.
Through an extensive review of all "things" Popcorn. Key unit Popcorn Kernels, Minsi Trails Council Finance Committee/Board members and Council Staff gathered to review everything important to a selling Scout, selling unit, and the Council.
Based off the feedback from the various groups. It was determined the need for a different product line-up mix, product price mix and tools to help everyone achieve a successful Popcorn sale. In addition to product, price and selling tools. The review team also considered the best way to deliver a sale under current or potential restrictions. Recognizing, the number one goal is keeping everyone safe during these times.
Below are key points and changes with the 2020 Minsi Trails Council Popcorn Sale. Please recognize, we plan to go back to normal show & sell plan for the 2021 selling program season.
Safety is first! Unit leaders, along with Scouting families should develop a unit selling strategy plan; Show & Sell activities, Door to Door sales and Online Sales App.
A NO RETURN Product Policy will be in place for the ENTIRE Popcorn Campaign.
For 2020, the Council will offer units an opportunity to participate in only one Show & Sell pre-order with a no product return policy.

Due to various community partners (Wawa - see bottom message) discontinuing store curbside selling for all of 2020.
Limiting the number of times product is handled and distributed to units, families, customers, and Council Popcorn Staff.
Allow units to focus on what is best for their selling strategy.

New product line up that offers various tastes, peanut offerings and packaging tins.
Improved selling app for taking direct sales and orders, to selling virtually through emails and Social Media.
Better Product Price Points.
To begin the process, Minsi Trails Council Popcorn Team will publishing information to this page that will be important to the Unit Kernel and Scouting Families. This is the Go To Page!
2020 Popcorn Sale Unit Pre-Plan
Units may begin selling popcorn as soon as they:
Develop a selling strategy for the 2020 Popcorn selling season; show & sell, door to door, and online/App selling.
Conduct a unit popcorn kickoff with Scouting unit families to educate and engage.
Work with their members to establish per youth sales goals.
Establish and instruct on safe selling techniques.
Inform their members of sales apps or online resources
Distribute sales materials.
Unit Leaders/Kernels Processes (actions required)
Below key dates do require a step to be completed.
Now - Register for a Training Webinar

Now - Invite emails will be sent to the 2019 Unit Popcorn Kernel. Please complete the request or pass off the information to the new Unit Kernel. (Completed by July 15, 2020)

Friday August 7, 2020 Unit Show and Sell Pre-Order placement is due online.

Friday September 4, 2020 Unit Show and Sell Orders are available for pick-up at Atas-Allentown, 6642 Grant Way, Allentown, PA 18106

October __, 2020 Unit Popcorn Take Order placement is due online.

November __, 2020 Money due for all Unit Show and Sell Orders.

November __, 2020 Popcorn Take Order Pick Up .

Pick up dates and times may vary District.


December __, 2020 All money due to the Council Office.
Customer Support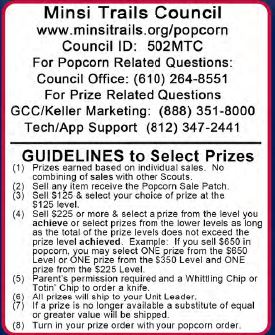 2020 Wawa Popcorn Show and Sell
Message from Wawa - As of June 23, 2020
No Show and Sell Locations for 2020.
We recognize your organization has plans in the near future for fundraising activities and connections with community members at your local Wawa store. As we continue to navigate the challenges to our communities as a result of COVID-19, we have been re-evaluating all scheduled events we have scheduled in our communities. Unfortunately, given the extra steps and precautions we have implemented at store level to follow the guidance and the directives of state and local health officials related to social distancing and safety, we, unfortunately, must defer all outdoor porch solicitations scheduled through 2020. We will continue to reevaluate these circumstances throughout the remainder of the year and will adjust future outdoor porch solicitation as needed for 2021 and further.
We appreciate your understanding and wish for your health and safety at this time.
Community Care, Kathleen Santucci